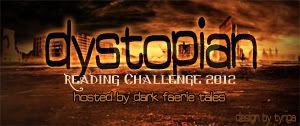 I've been thinking recently about how I need to catch up on all of the dystopian YA out now and then found this reading challenge...so of course, I just had to sign up! All info copied from
Dark Faerie Tales
, so be sure to check out that post for even more information.
Timeline: January 1, 2012 until December 31, 2012
Goal: Contagion — to read at least 12 dystopian novels in 2012 - I might aim for more, but I'm going to start easy for now!

Reading Levels:
1. Propaganda – Choose 6 books to read
2. Contagion – Choose 12 books to read
3. Oppressed – Choose 18 books to read
4. Liberated – Choose 24 books to read
5. Totalitarian – Choose 30+ books to read

General Rules:
The reading challenge is open to everyone.
You don't need a blog to participate.
If you don't have a blog – you can leave a comment with your book selection in this post.
If you don't have a blog and would like to write a review – you are welcome to do a guest review on this blog.
You can join at anytime to participate in this challenge.
If you are going to participate in this challenge, please post about it on your blog and add a link back to this post.
You can grab the challenge button on the sidebar to use on your blog.
eBooks, audio, and already read all count.
The Selection List will be continuously updated
Please sign-up using Mr. Linky – be sure to use the direct link to your post so that people will be able to find this challenge.
I'll add to this list as I read and review, but for now, these are the titles I hope to read.

1. Starters by Lissa Price
2. Chosen Ones by Tiffany Truitt
3. Under the Never Sky by Veronica Rossi
4. Divergent by Veronica Roth
5. Insurgent by Veronica Roth
6. Eve by Anna Carey
7. Article 5 by Kristin Simmons
8. Wither by Lauren DeStefano
9. Fever by Lauren DeStefano
10. The Way We Fall by Megan Crewe
11. Ender's Game by Orson Scott Card
12. Beauty Queens by Libba Bray

Well, actually there's a few more even now that I can think of, so I might update my reading level real soon!