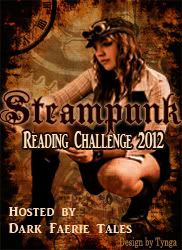 Another late join, but one I couldn't pass up! The below info is copied from
Dark Faerie Tales
, be sure to check out the post for all additional information!
The Challenge


Timeline:
January 1, 2012 until December 31, 2012
My Goal: GEARS — to read at least 12 steampunk novels in 2012
Reading Levels:
1. Gaslight – Choose 6 books to read
2. Gears – Choose 12 books to read
3. Gadgets – Choose 18 books to read
4. Greased – Choose 24 books to read
5. Steamed – Choose 30+ books to read
General Rules:
The reading challenge is open to everyone.
You don't need a blog to participate.
If you don't have a blog – you can leave a comment with your book selection in this post.
If you don't have a blog and would like to write a review – you are welcome to do a guest review on this blog.
You can join at anytime to participate in this challenge.
If you are going to participate in this challenge, please post about it on your blog and add a link back to this post.
You can grab the challenge button on the sidebar to use on your blog.
eBooks, audio, and already read all count.
The Selection List will be continuously updated
Please sign-up using Mr. Linky – be sure to use the direct link to your post so that people will be able to find this challenge.
I'll add to this list of titles I plan to read as I decide!

1. The Girl in the Steel Corset by Kady Cross
2. Leviathan by Scott Westerfeld
3. Behemoth by Scott Westerfeld
4. Goliath by Scott Westerfeld
5. Clockwork Angel by Cassandra Clare
6. Clockwork Prince by Cassandra Clare
7. Soulless by Gail Carriger