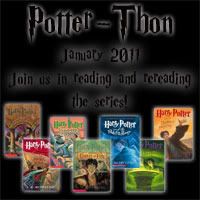 What a fantastic way to start the new year! Pure Imagination is hosting the Potter-Thon during January 2011, and I've just signed up!

My plan is to re-read all seven Harry Potter books throughout January...it's been a while since I've done so, and a perfect idea before the release of the final *sob* Harry Potter movie some months later!
My reviews (will be updated as I go!):
Harry Potter and the Philosopher's Stone
Harry Potter and the Chamber of Secrets
Harry Potter and the Prisoner of Azkaban

If you're interested in joining the fun, sign up here!